NATIONAL CHASSIS, a division of Tank Service, specializes in the sale of intermodal chassis including new and used container chassis, new and used ISO tank chassis, specialty ISO chassis, and specialty trailers.
You can purchase most units as-is or repaired. We offer all refurbishing services including sandblasting, custom painting, and FMCSA inspection in-house, providing a quality, reconditioned product ready for years of service. We keep chassis in stock at our terminal near the Port of Houston as well as our manufacturing facilities in Northeastern Pennsylvania and South Carolina.
We stock all types of container chassis designed to haul any sized intermodal containers. Our chassis can accommodate any box container for traditional dry goods service, including those that have been custom modified.
Our lightweight drop frame chassis design is ideal for companies specializing in the haul of loaded tank containers. We have several designs including our 80,000 MGVW chassis for heavy haul markets. Our chassis are available with a variety of upgrades and modifications.
Visit National Chassis for additional information.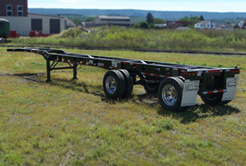 SPREAD AXLE
Spread axle chassis offer the lighter tare weight of a standard "closed tandem" two axle chassis, but with better weight distribution characteristics and the stability of a three axle chassis. Use a spread axle tank chassis to better scale a heavy tank over the rear axles.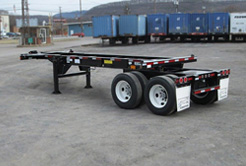 TANDEM AXLE
The workhorse of the industry, "closed tandem" drop-frame tank chassis come equipped with low-profile steel belted radial tires and a deck height of only 40" (ground clearance 16"). Spring suspension is standard.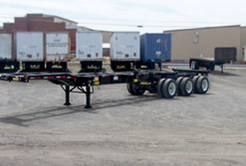 TRI-AXLE
Three axle tank chassis are rated with a higher GVWR (80,000 lbs. typical), enabling the carriage of heavier loads where overweight permits are authorized. Inventoried only in select markets, please call for availability.